About Erik Eriksson, 2022 City of Courtenay Mayoral Candidate
I was born in Reykjavik, Iceland in 1946.  Our family moved to Vancouver in 1952 where my father became the Minister at the Icelandic Lutheran Church.  When he passed away in 1963, my mother, sister, brother and I returned to Iceland.  My brother and sister remained in Iceland, my sister becoming a research scientist with the Heart Institute and my brother becoming Iceland's Ambassador to many countries, including Canada.
I came back to Vancouver to finish High School and attend UBC, where I received my Bachelor of Science Degree.  During the summer breaks, I worked at a gold mining operation in the Yukon, a heating oil distributor in Reykjavik, a logging camp in Gold River and a Pulp mill in Gold River.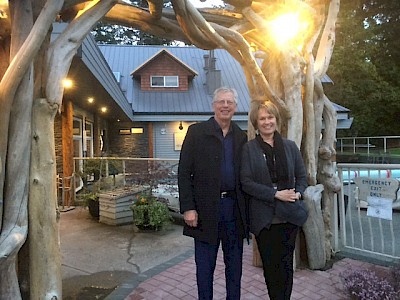 I attended Law School at UBC, but this didn't work out so I went to work at the Sawmill in Tahsis, where I became an Industrial Electrician. In Tahsis, I met my wife of 49 years, Beverley.  She already had a daughter, Janeen, creating for me an instant family.  Our son Richard was born in Campbell River while I was still working in Tahsis and our son, Bryan, was born at St. Joseph's after we moved to Courtenay to take the job as Electrician at Field's Sawmill.  After eight years at the sawmill, I was elected Financial Secretary (and Business Representative) of my Union, IWA Local 1-363, a position I held for 25 years.
In Tahsis, I served the community in many ways, including a term on the Town Council. Beverley was also involved in community service. She served as President of the Tahsis Hospital Auxiliary. In Courtenay, we got involved with coaching our children on their softball, baseball and soccer teams.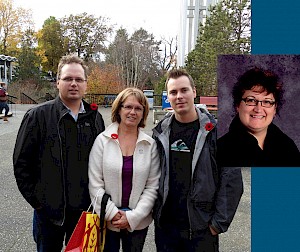 I was elected to a term on City Council in 1986.  I am very proud of the accomplishments of our Council of that time.  This includes the Airport Walkway and the first renovations to the CRA.  We worked with the Lion's Club to further their affordable housing initiative and we developed the Comprehensive Zoning Plan for the Crown Isle Golf and Residential Community. Because of the ages of our children at the time, Beverley and I decided that it would be better not to seek re-election after that term.  Beverley was working at ICBC at the time, where she become a bodily injury adjuster until the time of her retirement.
Instead of Council, I served the community in various ways, including, at various times, the Courtenay Recreation Association, CV Economic Development Society, CV Community Foundation, Comox Valley Food Bank Society, Celebration Singers Board and the Comox Valley Youth Music Centre, where I served a term as President.
---
Community Involvement
Community Boards
Founding Member – Comox Valley Economic Development Society
Director – Courtenay Recreation Association
Vice-President – Comox Valley Food Bank
Director – Comox Valley Community Foundation
President – Comox Valley Youth Music Centre
Treasurer – Celebration Singers
Municipal Service
Courtenay City Councillor
Regional District Director
Vice-Chair – Regional Sewage Commission
Vice Chair – Comox Strathcona Regional Hospital District Board
Member – Comox Strathcona Waste Management Committee
Vice-Chair – Comox Valley Sports Centre Commission
Member – Comox Valley Water Committee
Erik enjoying a Blue Jays game in Toronto with his sons Bryan and Richard and grandson James Frame.